Another difficult night, up at 2:00 a.m. went out and checked the greenhouse to see if it was maintaining a good temp. Came in and started a new work. Posted a new picture too. This one is called "Masses Fleeing Destruction"
The destruction coming from the sky, filled with meteors, comets and a ufo.
This is done on gallery wrapped canvas in acrylic paint. Canvas measures 18x36 I think. LOL
The new picture I'm working on right now is dream based, will maybe be called, Dream of a Man the Color of Fire.
I think a lot about what messengers are loose on earth right now. Who they are, can we see them, would they be alien to us, are they natural?
I guess thinking about that sort of thing might bring on a dream or two. LOL
This was taken day before yesterday (I got sneaked up on!) LOL
Trying to arrange paintings better at the gallery. Making room for more.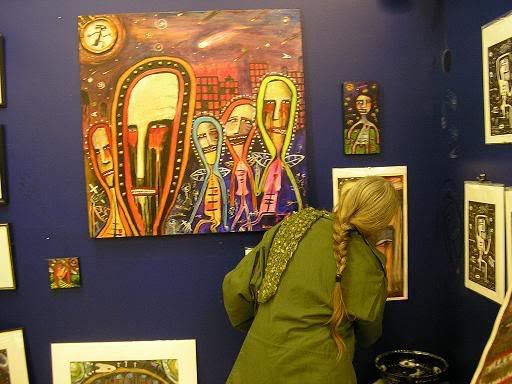 That big one above my shoulder is another acrylic on gallery wrapped canvas.
It also has some added textural elements. The ring around the alien in the fireball, and
the dots of radiation atop the halo of the big angel.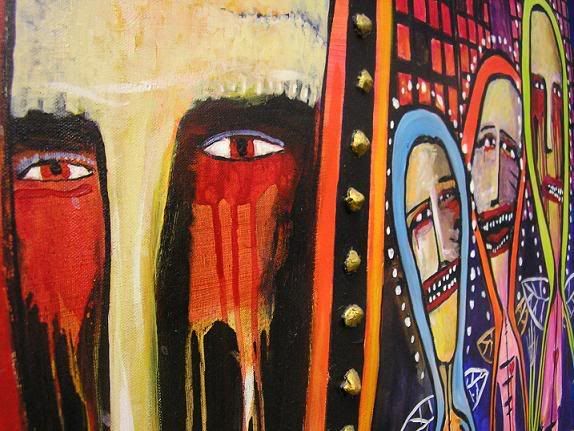 Anyone interested in any of these, or other works, or if you would like more information on them please contact Dick Nelson at,
Nelson Fine Art Center
324 E. Main Street, Johnson City, TN 37601
Phone: (423)926-2931
or you can email him here,
nelsonfineart@gmail.com

you can also message me here on the blog.